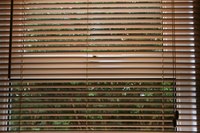 Roll up shades come in many different colors and various materials. No only do they keep out sun, but they can also decorate an inside window or outdoor porch or patio. The cost of durable shades range from cheap to expensive, and can be found at department stores, window treatment shops and other home accessory stores. However, if you already have shades and don't want to spend money on new ones, you can make simple repairs at home, such as re-stringing your shade.
Things You'll Need
Tape measure
Small screwdriver
Threading needle big enough for the string diameter
Remove the plastic or wooden caps from each end of the top rail where the string extends.
Take out the lock that holds the string in place with a small screwdriver.
Slide the rail from the rolled fabric to reveal the string inside of the shade.
Remove the old string from the rail by taking out any washers and pulling the string out. Place the washers in a safe place.
Measure the height of the window to determine the amount of string needed. Calculate the proper amount of string by using the window height multiplied by 2, plus the shade width, plus 12 inches.
Insert new string with a threading needle through the cord slot where you removed the old thread. Pull the string through the slot.
Tie the end of the new string at the bottom, and place the washer from the old cord back in place. Slide the rail back on the shade, and thread the string into the cord lock. Put the cord lock back into the rail.
Place both end caps back on the ends of the rail.