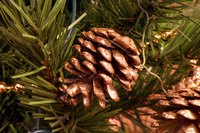 Pine cones are used in numerous craft projects. Found easily in parks or wooded settings, pine cones provide an inexpensive way to create decorations. Before working with pine cones, you will need to dry them out with heat, which also kills any insects within the cones. Heating the cone allows the sap to melt giving them a glossy appearance.
Things You'll Need
Cookie sheet
Aluminum foil
Heat oven to 200 degrees Fahrenheit.
Line a cookie sheet with aluminum foil. Place the pine cones in a single layer on the cookie sheet. Leave 1 to 2 inches between each cone so the heat penetrates evenly. Leave the pine cones in the oven for 30 minutes or until they have fully opened.
Remove the pine cones from the oven. Place the pine cones on newspapers as soon as you remove them from the oven. Allow them to sit for two to three days before using in craft projects.