Things You'll Need
Hammer

Stiff putty knife

Flat board

Ruler

Belt sander

Floor-leveling compound

Underlayment or moisture barrier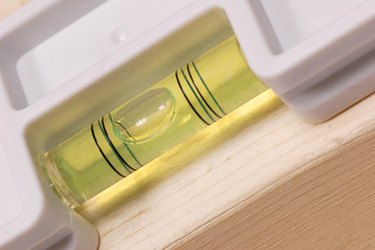 In a mobile home with cheap carpet or linoleum, upgrading to laminate flooring makes a big difference in the interior appearance. Many types of laminate flooring are made to look just like hardwood floors, but they are much easier to install and less expensive. Before installing laminate flooring in your mobile home, prepare your floor to the specifications required for your type of laminate flooring.
Step 1
Move furniture out of the rooms in which you will be installing the laminate flooring.
Step 2
Pull up the carpet from your mobile home floors by hand. Also, pull up the strips along the wall that held the carpet down. If you are having trouble, a stiff putty knife can help get into small spaces and pry the carpet and strips up.
Step 3
Hammer down any nails or staples you find sticking up out of your floor after removing the carpet.
Step 4
Slip a stiff putty knife between your baseboards and the wall and gently pry the baseboards away from the wall around the perimeter of the rooms in which you will install flooring. Laminate floors must be installed under the baseboards, and you can put the baseboards back after you are done installing the flooring.
Step 5
Lay a flat board along your floor and identify any areas that are not level. Sand high areas with a belt sander or fill in low areas with a floor-leveling compound. According to Lowe's, height differences of 3/16 inch or less over a 10-foot area of flooring are OK.
Step 6
Lay a flat board over any portion of your mobile home that has vinyl or linoleum floor that you are planning to replace with laminate. If the floor is level, you do not need to remove the vinyl or linoleum. If the floor is not level, tear up the flooring and level the floor as you did in the previously carpeted areas.
Step 7
Lay out a moisture barrier or underlayment if recommended by your laminate flooring manufacturer. Arrange the strips of underlayment so they cover the entire floor, from wall to wall.
Tip
Laminate flooring should be exposed to room temperature for at least 48 hours before installation, so you may want to bring it into your home before you begin preparing your floors for installation.