Things You'll Need
Building permit

Copy of local building codes

2-by-4 lumber

Fiberglass roll-type insulation

Windows

3-inch stainless steel screws

Walk-out door

Exterior siding

Drywall

Joint compound

Paint

Water pipes and drains

Electrical wiring and outlets

Light fixtures

Indoor-outdoor carpet

Porcelain ceramic tile

Laundry room sink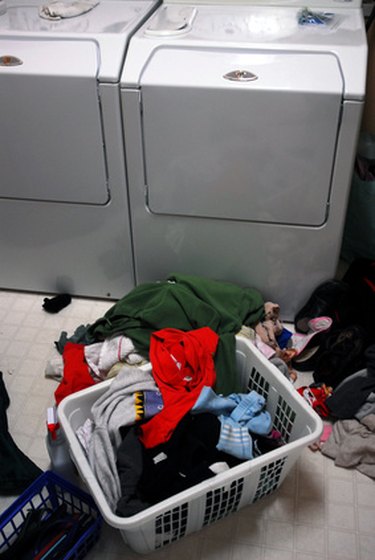 A porch can be made into a functional and pleasant laundry room, since larger windows can be incorporated for natural light. The project can be completed in stages as your budget permits. Proper insulation is imperative for comfort and to keep water pipes from freezing. Constructing a laundry room on a porch is less costly than building on an addition, which requires a foundational pour and roof area to be built. A porch has most of the component parts of a room's framing in place, which saves both time and money.
Step 1
Examine the porch's foundation for structural integrity. If it's cinder block, ensure there are no cracks in the block. Keep in mind that water lines and drains may need to be routed through the floor. The framing must be airtight so the plumbing does not freeze. Plan to enclose a crawlspace perimeter with house siding, for example, after adding insulation beneath the porch.
Step 2
Check with local building authorities for a building permit before starting work. Obtain a list of building codes and restrictions, as well. Design the laundry room shape and frame it. Use 2-by-4 lumber to construct a room under the porch roof. Build studs on 16-inch centers, while leaving framed window openings and space for an exterior door. Construct framework for an interior closet during this process.
Step 3
Finish the exterior walls and window spaces. Install pre-made windows in the framed openings using 3-inch stainless steel screws. Buy an exterior walk-out door to fit the framed opening. Install the door with a heavy-duty dead-bolt lock for good security. Nail exterior siding to the room to match your home's exterior.
Step 4
Complete the interior. Staple roll-type fiberglass insulation between the studs and overhead rafters. Hire a qualified electrician to run electrical wiring through the framing boards and install electrical outlets and lights. Or, ask a professional to inspect the work if you do it yourself. Hire a plumber to do the plumbing work or inspect the project after you complete it. Run plumbing lines and drains before nailing the drywall into place and finishing the walls with joint compound.
Step 5
Connect the light fixtures and caulk around all windows. Paint the room with semi-gloss latex paint. Install indoor-outdoor carpeting or porcelain ceramic floor tiles. Add cabinets for laundry supplies and install sufficient shelves for houseplants or laundry items.
Tip
Install an all-purpose sink in the laundry room so it can also be used as a mud room.
Warning
Pipes coming into the laundry area can be difficult to insulate if the porch crawlspace is cramped when building begins. Wrap water pipes with heat tape to prevent freezing in winter. Heat tape requires little electricity to operate, so there should be no noticeable change to your electric bill.