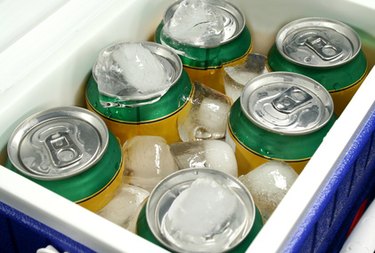 Styrofoam is the brand name of Dow Chemical Company's extruded polystyrene foam. Although foam coolers are commonly referred to as "Styrofoam coolers," there are no coolers made today using the Styrofoam brand of extruded polystyrene foam. The choices for keeping items cold include foam coolers, rigid plastic insulated-wall coolers and insulated soft coolers. Each type of cooler serves a purpose depending on the end use.
Step 1
Check the price of the coolers. Foam coolers are typically less expensive than plastic or soft coolers. Foam coolers sold at point-of-purchase locations such as convenience stores are usually cheap and disposable. Plastic and soft coolers range from affordable utilitarian designs to expensive coolers with built-in stereo speakers and wheels.
Step 2
Examine the cooler to see how durable it is. Foam coolers, made from pressed polystyrene pellets, are easily broken. Although some higher-end foam coolers may be strong enough to support weight, most foam coolers are not suitable to use for seating. Many plastic coolers have a lid that doubles as a bench seat.
Step 3
Determine what you want to use your cooler for to compare which cooler will fit your needs. Soft-sided coolers are better for storing odd-size objects. Plastic coolers are better for storing raw meat, as foam and soft coolers are difficult to sterilize. Many soft coolers can be folded and stored in small spaces.
Step 4
Lift the different coolers to compare the weight. Plastic coolers tend to be heavier than their foam and soft cooler counterparts.
Step 5
Check the cooler's warranty information. Cheap foam coolers rarely come with a warranty, while high-end plastic coolers often carry a warranty covering them for many years.
Warning
Check to make sure your destination allows foam coolers. Some areas, such as Michigan's Pine National Scenic River, do not allow foam coolers.