Things You'll Need
Sewing machine

Scissors

Measuring tape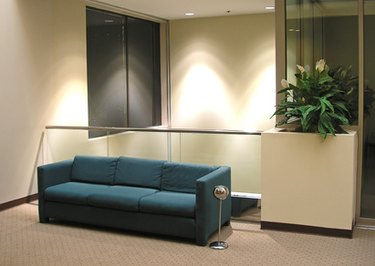 Replacing a cushion cover for a sofa is an easy way to give your furniture an updated look. It's also a quick fix if a cushion cover becomes damaged due to a spilled drink or fading from extended use. Replacing a cushion cover is often as simple as unzipping and removing the current cover to expose the foam interior and replacing it with a new cover. If your current cushion cover does not have a zipper, it can be simply removed with scissors and reupholsters.
Step 1
Check for a zipper. Unzip the current cushion cover if applicable and discard if damaged. Recycle the cushion cover fabric if possible.
Step 2
Use scissors to remove a cushion cover that does not have a zipper. Carefully make a slit down one side of the cover without damaging the interior foam. Remove the foam from the cushion cover.
Step 3
Measure the foam. Determine its depth, width and thickness. Purchase enough fabric of your choice to cover the foam cushion. Use a sewing machine to sew a new cover onto the foam cushion. Ask a professional if you are not familiar with this type of work.
Step 4
Purchase replacement cushion covers if you are not making your own. Use foam measurements to determine the necessary size of the cover.
Step 5
Stuff the foam into the new cushion cover. Push and pull the foam into place until it fills up the cover completely. Zip up the cushion cover and place it back onto the sofa.