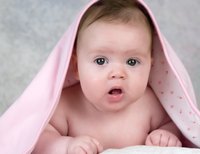 Fold a baby blanket into a flower and tuck several smaller gifts into the petals for an adorable baby shower presentation. The flower fits nicely into a square hatbox. Wrap the box and lid separately or simply decorate a plain box with baby stickers. This fold is an easy way to add a handmade touch to a selection of purchased baby gifts.
Things You'll Need
Square baby blanket
Square hatbox
Lay a square baby blanket out flat. Fold all four corners in to meet in the middle. You will have formed another square. This is the same fold you use to make a paper fortune-teller or cootie-catcher.
Turn this square over. Fold the four corners of this square into the center in the same way, making another square. Place the folded blanket in a hatbox with the corners of the blanket in the corners of the box.
Open the diagonal slits that go from the center to the corners of the folded blanket to form four rounded flower petals. Tuck small gifts such as rattles, booties or pacifiers into the openings in the petals.
Place the lid on the box and tie the box closed with a ribbon.