Things You'll Need
Clear glass globes

Sand

Gold votives

Gold confetti or candy in gold-colored wrappers

3 gold latex balloons

4 ivory latex balloons

1 "50th Anniversary" Mylar balloon

8-3 foot pieces of gold curling ribbon

1-6 inch piece of gold curling ribbon

Sand

Color or black-and-white photos

Printer or copier

Laminating film or laminating machine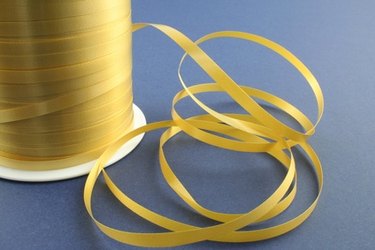 The 50th wedding anniversary is also known as the "Golden Anniversary." Friends and family members often organize an event to celebrate the milestone and honor the committed couple. While you can purchase various pre-made 50th anniversary decorations, you can also make them yourself. Homemade decorations offer you the opportunity to personalize them and make the event that much more memorable and special.
Centerpieces
Step 1
Fill clear glass globes 1/3 full with sand and place a gold votive on top of the sand in each one.
Step 2
Place a globe in the center of each table. If the table is large, place two or three globes in the center or space them out evenly down the length of the table.
Step 3
Scatter gold confetti or candy with gold-colored wrappers around the base of the globe for a decorative touch.
Balloon Bouquet
Step 1
Fill three gold and three ivory latex balloons with helium. Fill one large "50th Anniversary" Mylar balloon with helium.
Step 2
Attach a 3-foot piece of gold curling ribbon to each balloon .Place the large Mylar balloon in the middle of the ivory and gold balloons. Fasten the balloons together by tying a knot around all the ribbons with a 6-inch piece of curling ribbon.
Step 3
Fill an empty ivory latex balloon with sand. Attach a 3-foot piece of gold curling ribbon and tie the end onto the balloon bouquet to serve as a weight.
Step 4
Place the balloon bouquets at the entrance of the room and in the corners. Place the sand-filled balloon on the floor underneath the bouquet.
Photo Placemats
Step 1
Copy and enlarge color and black-and-white photos of the anniversary couple throughout their marriage.
Step 2
Laminate each photo to create a placemat and/or a party memento.
Step 3
Place one laminated photo on the dining table in front of each guest's seat before the celebration begins .
Tip
Place personal articles of each of the honorees on the tables, such as his old baseball glove or a megaphone from her cheerleading days, to help create a nostalgic atmosphere.