Things You'll Need
Dark brown sugar

White sugar (granulated)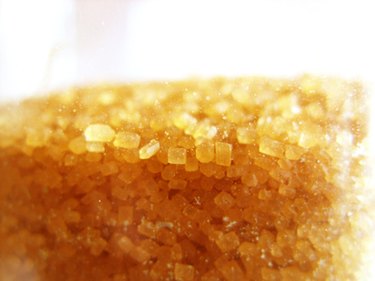 Sugars add sweetness to recipes, but brown sugar has molasses added to it to produce a flavorful alternative to white sugar when baking. The amount of molasses added to the brown sugar determines whether it becomes light or dark. Dark brown sugar has more molasses in it than light, producing a sugar with a full-bodied flavor with distinct overtones of molasses. You can successfully substitute dark brown instead of light brown in recipes depending on your taste preference.
Step 1
Replace each cup of packed light brown sugar with 2/3 cup of packed dark brown sugar and 1/3 cup white sugar. Choose this option if you want to reduce the molasses taste in your baked goods by cutting the dark brown sugar with white as a replacement for light brown.
Step 2
Combine the dark brown sugar and white sugar thoroughly before adding to your recipe when directed to add the light brown sugar. Continue to prepare your recipe as directed.
Step 3
Replace an equal amount of dark brown sugar for light brown sugar if you want a deep molasses flavor in your baked goods. For instance, if your recipe calls for 1 cup of light brown sugar, use 1 cup of dark brown sugar as another option.