Things You'll Need
Wall mount kit

Masonry drill bit

Cement-anchor kit

Hammer

Masonry epoxy

Screws

Socket wrench

Screwdriver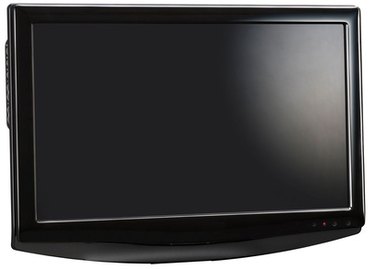 Because decorating schemes often use a fireplace as a focal point, homeowners may choose to hang a flat-screen television over the mantel. Such a position is possible, even if the area is composed of stone, provided you anchor the screws properly with cement anchors, and ensure that those anchors are completely secure before hanging the television. Failure to secure the anchors will cause them to loosen over time, which could lead to the television falling off the wall.
Step 1
Hold the mounting bracket up to the stone and mark the holes where the anchors will go.
Step 2
Pilot the hole where you want your anchors to go. Use a masonry drill bit. The masonry drill bit size must coincide with the cement-anchor kit you have. A perfect fit is crucial.
Step 3
Insert the anchors by hammering the anchor into your piloted holes and securing with masonry epoxy. Allow epoxy to dry completely.
Step 4
Hang the mounting bracket with appropriate screws and use a socket wrench to tighten them.
Step 5
Remove the stand from the television — if it has one — by removing the screws that attach it to the television.
Step 6
Attach the mount to the television. Secure the bolts to the television's metal frame. The mount will attach to the mounting bracket that you have already attached to the stone.
Step 7
Ask a friend or two to help you lift the television to attach it to the mounting bracket. The mount will clip onto, or slot into, the mounting bracket on the wall.
Tip
If you are hanging a plasma television, PlasmaTVBuyingGuide.com recommends that you make sure the fireplace doesn't get above 90 degrees Fahrenheit before hanging it in that location. Tape a thermometer to the planned location of the television, build a fire and "let it roar for a while." If the temperature exceeds 90 degrees, choose a different location.