Things You'll Need
Plate or platter

Bowl or cup (optional)

1 package dried onion soup mix

1 can cream of mushroom soup

1/2 cup red wine or cooking sherry

1/2 teaspoon garlic salt or powder

Sharp meat knife

Slow cooker

Large mixing bowl

Measuring cup

Measuring spoon

Whisk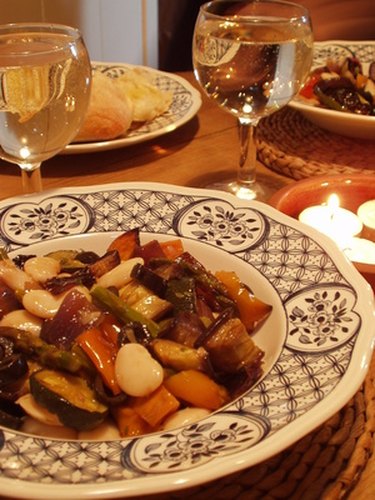 With or without carrots, celery, potatoes and onions, pot roast has long been a favorite American meal. With the advent of slow cookers, preparing pot roast has become an easy recipe. However, sometimes the unpredictable happens and the roast dries to the consistency of beef jerky. You can't serve dried-out meat as a simple main dish, but you can still salvage the roast.
Step 1
Remove the roast from the pan and set on a plate or platter. Remove and save any drippings in a bowl or cup. Allow the roast to stand for at least 10 minutes; this will preserve any remaining moisture in the roast.
Step 2
Cut the roast into smaller pieces. Depending upon the meat and your preference, you can slice, cube or shred it. Place roast pieces into the slow cooker. If the roast was cooked with vegetables, add these to the slow cooker.
Step 3
Pour the dried onion soup mix into a large mixing bowl. Add the cream of mushroom soup, wine or cooking sherry and garlic salt to the bowl. If there were roast drippings left, add these to the bowl and whisk until blended. Pour this mixture over the roast pieces.
Step 4
Put the lid on the slow cooker and set it to medium heat. Cook for 3 to 4 hours, stirring occasionally. Watch the sauce; if it appears to be thickening, add between 1/3 and 1/2 cup of water.
Step 5
Ladle the roast and sauce over cooked rice, noodles or mashed potatoes or pour it over toasted bread for an open-face sandwich.
Tip
Cook this recipe in a saucepan or dutch oven on the stove top if no slow cooker is available. Add a cup of water to the sauce mixture and cook for an hour, stirring frequently. Although the roast won't be as tender as the other method, it is good when company is coming soon and a quick save is needed.
Make this sauce and pour over the roast before cooking. It will help to retain the roast's moisture and will make an easy gravy.
Warning
Make sure the lid fits securely on the slow cooker to prevent moisture from escaping.
Don't pierce the roast with a fork either before or during the cooking process; this can cause the roast to dry.