Things You'll Need
Bubble wrap

Tape

Box

Wrapping paper

Ribbon

Bow

Pen

Gift tag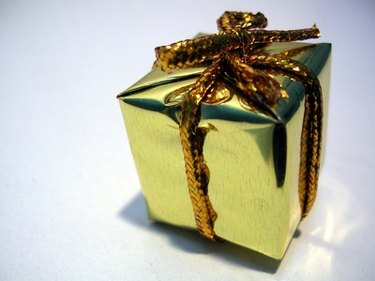 One of the worst situations when giving a gift is to have it opened, only to discover it was damaged in transport. When gift-wrapping a delicate item such as a bowl, take protective measures as you wrap it. By doing so, you will ensure it reaches its destination in one piece and is as good to look at when opened as the gaily wrapped package surrounding your gift.
Step 1
Surround the bowl in bubble wrap and store the excess inside the bowl. Place the bowl into the box.
Step 2
Put the box upside down onto the center of the wrapping paper and pull the sides of the wrapping paper to the center of the box. Cut off the excess, overlap the paper and tape it.
Step 3
Turn the box right-side up. Smooth the sides of the open paper on one side to create top and bottom flaps and crease them. Fold the top and bottom flaps to meet. Tape the flaps to the side of the box. Repeat with the other side.
Step 4
Turn the box upside down and wrap ribbon lengthwise under the box, overlap it in the middle and wrap it around the width. Turn the package right-side up. Slip the ribbon ends under the intersecting ribbon and tie the ends. Cut the ribbon.
Step 5
Unpeel the back surface from your bow. Press the bow firmly in the middle of the box, covering the intersection of the ribbon.
Step 6
Write out your gift tag with your name and the recipient's name. Tape the tag under the corner of the bow.
Tip
You can slide the side of the scissors along the ribbon ends to give it a curl effect if you won't be attaching a bow. An option to bubble wrap is to fill the bowl and box with Styrofoam peanuts.
Warning
Transport the package with care.