Things You'll Need
Measuring tape

Level

Stud finder

Screwdriver

Drill and drill bits

Anchors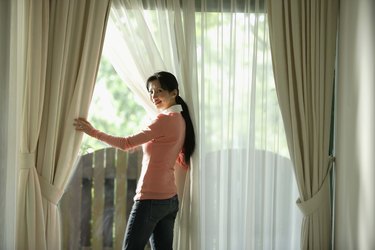 Curtain holdbacks add a finishing touch to your window treatments or door openings. While not absolutely necessary for any window, curtain tiebacks quickly and easily change the appearance of the window treatment. If the curtains cover a patio door, the drapery holdbacks serve the function of moving the curtain out of the way so there is easy access to the door. Installation of curtain holdbacks is a simple process. Just about anyone can install them with a few basic tools that are probably already in the house.
Step 1
Measure a spot about 2/3 of the way between the curtain rods and the floor. If the curtains don't go all the way to the floor, measure from the curtain rods to the bottom of the length of the curtains. Make a light mark on the wall.
Step 2
Repeat this process on the other side of the window. Make sure the two marks are even. If you have a laser level, it's a good tool to check that both sides are even.
Step 3
Hang the curtains from the curtain rods. Slide the drapery holdbacks around the curtains and hold the tiebacks in place against the wall. Have a friend hold the curtains in position as you step away from the window to check how the curtains drape from the tiebacks.
Step 4
Adjust the holdbacks up or down to get different looks. Mark the final position for the curtain tiebacks. Check for levelness again. Erase any marks you made on the wall other than the final location.
Step 5
Locate the studs on either side of the window. Adjust the position of the holdbacks if necessary to make sure they have a solid foundation.
Step 6
Attach the drapery holdbacks to the wall. If the window frame has a metal support piece under it, drill a pilot hole to make it easier to insert the screws.
Step 7
Gather the drapery fabric and slide it into the holdbacks.
Tip
If there aren't studs where you plan to attach the holdbacks, plan to use anchors to secure the curtain tiebacks.
Warning
Drapery fabric can be very heavy. Make sure the drapery holdbacks have solid anchors in the wall to support the weight.