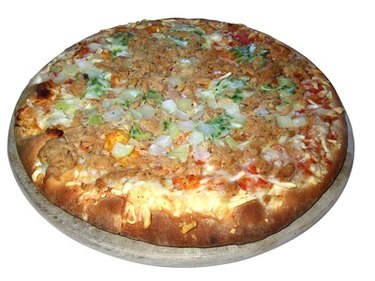 Pampered Chef offers many different shapes and sizes of baking stones, but the most popular one is its pizza stone. The key to an evenly cooked pizza with a fully cooked crust is a pre-heated pizza stone and once you've cooked with one, you won't go back to your previously used methods. Not only do they make for a great pizza, cleaning the stone after use is quick and easy.
Cleaning a Pampered Chef Pizza Stone
Step 1
Loosen food particles while the pan is still hot using a nylon pan scrubber. The pan scrubber is included with all stones purchased through Pampered Chef.
Step 2
Wash the stone under hot running water, scrubbing again with the pan scrubber or the back side of a sponge with a nylon scrubbing surface. Do not use soap.
Step 3
Rinse off all food particles, then dry the stone with a dish towel.
Tip
You should wash your stone before the first use, using only hot water. Stones are not dishwasher safe.
Warning
Stones stay hot for a long period, so use care for a half hour after removing it from a heat source.