Things You'll Need
Pizza Stone

Olive Oil or Vegetable Oil

Oven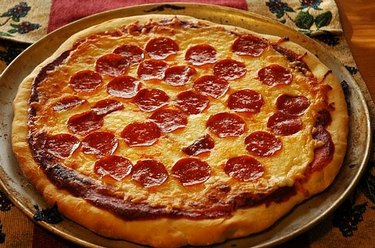 Pizza stones have become very popular in the past few years. Homemade pizzas cooked on stones have that perfect crust, nicely browned, and still soft and chewy. When you buy a pizza stone, it is not ready to use. You have to season it just like you would a cast iron skillet, with oil and heat. Your pizza stone should be seasoned at least twice before using.
Step 1
Wash the new pizza stone with hot water. Never use soap. It will seep into the pores and flavor everything you cook on it.
Step 2
Heat oven to 450F. The oven needs to be hot for the oil to soak into the stone and produce a glossy finish that your food will not stick to.
Step 3
Rub a generous amount of oil onto the cooking surface of the stone. Not so much that oil is dripping of the edges. Place the stone in a hot oven and bake it until the oil has been completely absorbed.
Step 4
Remove the stone from the oven, and allow to cool enough that you can touch it without burning yourself. Re-oil the stone, and bake again. After two seasonings, your stone should be ready to use. However, it is not completely seasoned yet.
Step 5
Prior to cooking pizzas on your stone, lightly oil the surface with olive oil. Do this every time you use it, and your stone will take on a deep brown and golden tone with an old world look. If you take care of your pizza stone it will last you a lifetime.
Step 6
Even as your stone becomes well seasoned, it is still important to never use soap. To clean it, scrape off any burned on cheese or sauce with a plastic spatula, and clean with very hot water. Soap can still seep into the stone, and it can also remove some of that beautiful finish you've achieved.