From cooking peaches to pork chops to pizza, there is no end to what a grill can do for you. But, can you grill biscuits? Yes you can! Biscuits are best cooked over fairly high heat (higher than the standard 350 degrees Fahrenheit that most baking recipes call for), making the grill a fantastic choice. The nice smokey char of a grill is a beautiful contrast to the buttery comfort flavors of a warm biscuit. Want to up the game a bit? Add some compound butter to put those biscuits over the top.
Things You'll Need
2 cups all-purpose flour, sifted

2 teaspoons sugar


1 tablespoon baking powder


1 teaspoon salt


6 tablespoons cold unsalted butter

1 cup whole milk (or buttermilk)

Tip
Cold butter works best! Make sure your butter is super cold when you start making biscuits. Cut into cubes and place back in the fridge while you prep everything else.
Step 1: Cut in the Butter With the Dry Ingredients
Add flour, sugar, baking powder and salt to a food processor. Pulse a few times to combine. Add the cold cubes of butter and process until well combined with the flour.
Tip
Cutting in the cold butter quickly is the key to great biscuits — and food processors do this well. Alternately, you can combine the dry ingredients in a large bowl and cut the butter in by hand.
Step 2: Add the Milk
Pour the milk into the food processor and pulse until just combined. Do not overmix.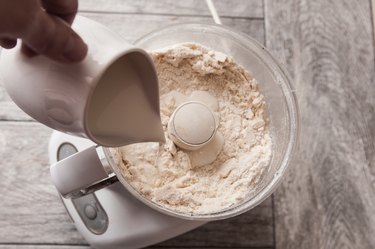 Step 3: Form the Dough
Using either a cold marble rolling pin, or your hands, form the dough into a rectangle. If using a rolling pin, use as few strokes as possible.
Step 4: Cut the Biscuits
Using a circle biscuit cutter, cut out six to eight biscuits.
Tip
Resist the twist! Although it's a natural instinct to want to twist the biscuit cutter, resist the urge! The twisting motion will seal the edges making it harder for the dough to rise, resulting in dense biscuits. Push straight down, and come straight back up.
Step 5: Place the Biscuits on a Hot Grill
Preheat the grill to medium-low. Place the biscuits on the grill, close the lid and allow to cook until the underside has grill marks and dough releases from the grates, about 3 minutes.
Tip
Watch the heat! Grills generally heat up between 500 degrees F and 800 degrees F. Most grilling recipes call for the heat to be about 600 degrees F. Biscuits are best at around 500 degrees F so keep the heat low to avoid burning your biscuits before the center is cooked.
Step 6: Flip and Finish Cooking
Flip the biscuits and allow to cook until the center is cooked through, about 2 minutes.
Tip
If your biscuits start to burn before the center is cooked, move them to the warming rack of the grill, close the lid and continue cooking until done.
Butter 'Em Up!