When you want a pumpkin flavor fix, you want it fast. But instead of presuming that this ingredient is best served hot, think again! Pumpkin ice cream will satisfy the craving and can be the perfect dessert to gear up for the fall, even when temperatures are still high. This recipe can be made with seven simple ingredients — including ground nutmeg and vanilla — and doesn't require an ice cream maker. Get ready to delight your tastebuds with this creamy, no-churn treat, and you'll have an excuse to indulge in this rich and comforting taste year-round.
Things You'll Need
2 cups heavy cream

1 can (14 ounces) sweetened condensed milk

1 teaspoon vanilla extract

1 cup pumpkin puree

1 teaspoon ground cinnamon

1/2 teaspoon ground cloves

1/2 teaspoon ground nutmeg
Step 1: Make the Ice Cream Base
In a stand mixer, whip the heavy cream until stiff peaks from, or for about five minutes. Pour in the condensed milk and vanilla extract and mix for another 30 seconds. Add in the pumpkin puree and spices, and mix until smooth.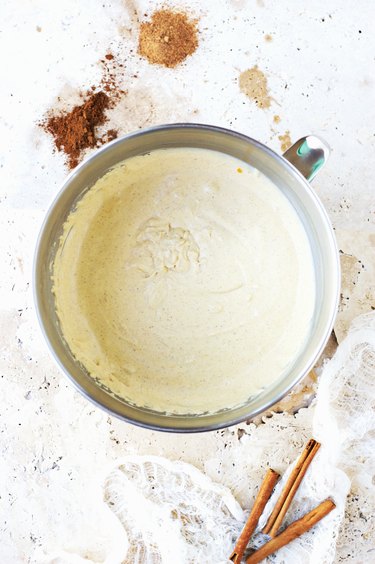 Step 2: Freeze the Ice Cream
Line a bread pan with parchment paper. Pour in the ice cream base and smooth the top with a spoon until even. Cover and freeze in the refrigerator for at least eight hours, or overnight.
Step 3: Thaw and Serve
Before serving the pumpkin ice cream, let it rest on a counter at room temperature for about five minutes to soften. Scoop into waffle cones or bowls, and feel free to top with chocolate chips or fudge, if desired. Enjoy!
Tip
Run your ice cream scoop under hot water for easier and better-shaped scoops!