Things You'll Need
Fresh floral bouquet

Paper grocery bag

Rubber band

Maximum hold hairspray

Vase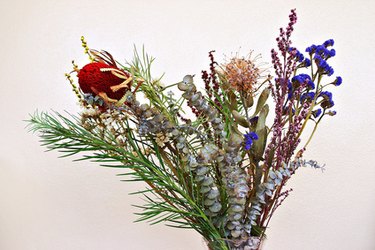 Whether you're the recipient of a beautiful bouquet, or you want to save your fresh garden flora, preserving the colors of your flowers is easy. Preserving floral bouquets allows you to use the flowers for decorative and craft purposes. Many techniques exist to preserve fresh flowers, but an easy way involves the use of normal household materials. This allows you to preserve your flowers without spending money on craft sprays and ingredients.
Step 1
Gather the fresh flowers in your fist and insert them, blossom side down, into the paper grocery bag.
Step 2
Squeeze the opening of the grocery bag around the stems poking out of the top of it. Wrap a rubber band around both the bag and the stems to keep it together.
Step 3
Sit the bag in a dry, cool place such as a pantry or cabinet. Let the bag sit for five to seven days.
Step 4
Remove the dried flowers from the bag and place them, stem down, into a vase. The blossoms of the flowers should retain their color during this drying process.
Step 5
Hold a can of hairspray about three inches from the surface of the flower blossoms. Press the nozzle firmly to release a mist over the entire surface of the flowers. Turn the vase as you spray to cover all sides of the arrangement. The hairspray seals the color into the blossoms, preserving them.