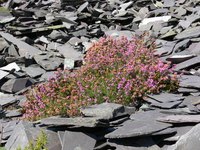 Stone makes a durable basis for several kinds of art. People have long used it for sculptures, engraving and bas relief. However, technology has progressed to the point where you can now transfer full-color images--such as those you would find on posters--to slate. The result is flame resistant, waterproof, and long lasting. Just keep your stone piece out of direct sunlight and it will look new for years to come.
Things You'll Need
Poster
Scanner
Computer
Photo software
Transfer printer paper
Sink
Brush
Rubbing Alcohol
Slate
Roller
Face mask
Polyurethane sealant
Scan your poster in to a computer. Make sure to do so at a high resolution. Print quality for color images is 300 dots per inch (dpi). You can go higher, but the human eye may not be able to detect the difference. For black and white posters, use 500 dpi. You should be prompted for a dpi setting when you first try to scan your poster. Save your image as a file.
Print your image on transfer paper, which you can find online or at most office supply and craft stores. If your poster is extremely large, you will need to go to a photocopy store and ask if they can print it there on a large format printer.
Go over the transfer printout with a heat gun for half a minute to set the ink.
Dip the printout in warm water until it is saturated. Avoid letting the paper curl or it might stick to itself.
Brush the surface of the slate with rubbing alcohol. Remove the backing from the transfer paper and place the printout over the stone. Smooth out any wrinkles or bubbles with a roller.
Allow the art to dry for three hours. Don a face mask and apply two coatings of polyurethane sealant over the artwork and the stone.