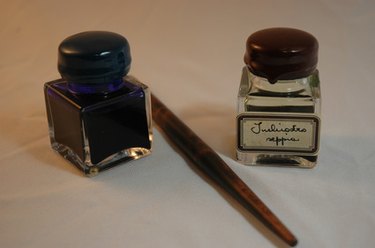 Lithograph and silkscreen inks are both ways to get an image displayed on a variety of surfaces. Lithograph printing typically deals with stone or hard surfaces, while silkscreen has a lot of versatility which allows it to be a practical choice on many surfaces.
What is Lithograph Ink?
Lithograph ink, derived from the Latin root "lith," meaning stone, and "graph," meaning to draw, is a method of printing in which a stone or metal plate is used to transpose an image onto the final product. It is relatively cheap and often performed using limestone as the rock surface.
Applications of Lithograph Ink
Lithograph ink is often used to show more texture and for it's opacity. In order to create a lithograph, the artist would draw on a stone surface with an oil-based pencil.
What is Silkscreen Ink?
Also known as screen-printing, silkscreening is a printing technique that uses a mesh template and ink-blocking stencil. The printing surface is blocked by this stencil and when ink is applied using a paint-roller or squeegee, the desired image is displayed on the surface.
Applications of Silkscreen Ink
Most commonly, silk screening is used to produce images on clothing, textile fabrics and product labels. It may also be used, however, on anything from medical devices to balloons.
When to Use Each
Lithography is the best choice with many things that involve printing on a rock or metal surfaces because of its texture and effects. When dealing with fabrics or when the image needs to be more precise and flowing, silkscreen would be a much better choice because of it's versatile and effective nature.