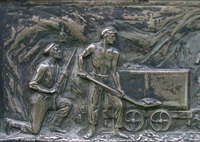 How to Transfer Images to Stone or Metal Using Acrylic Matte Medium. A three-dimensional surface can take on a new look with the right superimposed image. This technique will allow you to transfer a photocopy or printed image with virtually no equipment.
Things You'll Need
Brushes
Spray Polyurethane Finish (if Using Metal)
Stones Or Metal
Acrylic Matte Medium
Photocopy Or Printed Images
Pan Of Water
Prepare the Surface
Choose your stone or piece of metal. Keep in mind that an image will show up better on a light surface.
Prepare the surface: Wash or wipe it down; scrub it if necessary to remove loose particles. Degrease it with rubbing alcohol if necessary.
Coat a metal surface with two coats of spray polyurethane and allow it to dry fully (to seal the surface and prevent it from rusting).
Coat a stone surface or sealed metal surface with two coats of acrylic matte medium and allow it to dry fully.
Prepare the Image
Coat the image side of a high-quality photocopy (color or black and white) or an image from a newspaper or magazine with six to eight coats of acrylic matte medium. Make sure you don't get any medium on the back side of the image.
Allow it to dry for 24 hours.
Transfer the Image
Soak the coated image in lukewarm water for several hours or overnight.
Remove the image from the water.
Place it on your work surface, image side down.
Rub the paper backing off the plastic-like surface gently. The toner of the photocopy image or ink from the printed image should stay embedded in the plastic-like surface of the acrylic matte medium while the paper rubs away. (You may need to do this partly in the tray of water.)
Coat your stone or metal with a layer of matte medium.
Coat the side of the image from which you have just removed the paper with a layer of matte medium.
Lay the freshly coated surface of the image onto the freshly coated surface of the stone or metal and smooth it out.
Allow to dry at least an hour.
Use acrylic medium to create a seamless, smooth surface (for example, to smooth over the point at which the transferred image meets the stone or metal) and to coat.