Things You'll Need
Cardboard box

Plastic garbage bag

Cat litter

Garbage can

Hammer

Pickup truck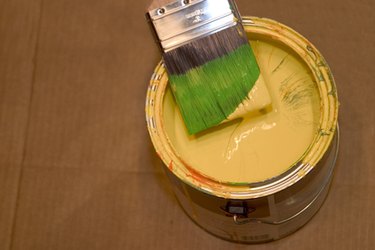 Partial cans of paint can accumulate over the years as the surfaces of a home are repainted. Getting rid of these old cans of paint isn't hard to do. According to Carolyn Dann of the Waste Watch Center, "Paint collection can be accomplished through a variety of methods." Recycling paint through approved Environmental Protection Agency methods can reduce the impact these materials would otherwise have on the environment.
Water-Based or Latex Paints
Step 1
Place a plastic garbage bag in a cardboard box and pull the lip of the bag down over the lip of the box. Inspect the bag for holes. Double bag if necessary.
Step 2
Dump a bag of cat litter into the bag until the bottom of the cardboard box is completely covered with a few inches of the litter.
Step 3
Pour the paint over the cat litter and let it dry. Add another layer of cat litter and pour another layer of paint and let it dry. Continue this process until the paint cans have been emptied.
Step 4
Leave the lids off of the paint cans and allow the paint coating the inner wall of the can to completely dry out.
Step 5
Throw the dried-out paint cans and paint-filled cardboard box into a garbage can. Leave the lids off of the paint cans
Oil-Based Paints
Step 1
Call city or county offices and ask where cans containing oil-based paint can be disposed of.
Step 2
Secure the lids of the paint cans with a hammer. Place the paint cans upright in a box.
Step 3
Haul the cans of paint to the local household hazardous collection site in a pickup truck that has a bed open to the air.
Tip
To avoid having to dispose of excess paint, buy only as much paint as the job requires.
Warning
Oil-based paint is a hazardous material and should always be disposed of according to local laws.