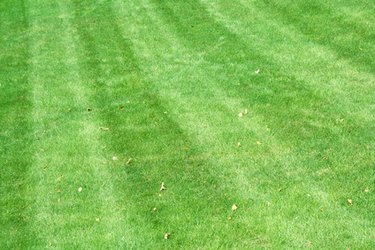 The model L120 John Deere riding lawn mower is a versatile machine. Attachments for the lawn mower include options such as a grass bagger, lawn rake and broadcast seeder. Although the lawn mower comes standard with a 48-inch mower deck, it is not uncommon to remove it for specific jobs that require additional clearance and maneuverability. Converting the John Deere L120 back to a mower requires installing the mower deck.
Step 1
Position the lawn mower on a hard surface and set the brake. Remove the key as a safety measure to prevent accidental starts.
Step 2
Adjust the mower lift lever to the transport position. This will raise the lift draft arms out of the way for the deck to slide under the lawn mower and be put into position for pinning.
Step 3
Slide the mower deck underneath the lawn mower and center it up on both sides. Place wooden blocks under the deck to raise it slightly off the ground. The blocks also will allow additional adjustment of the deck position while pinning it into place.
Step 4
Lower the lift lever control until the draft arms just touch the top of the mower deck. There is one draft arm on each side of the mower, just in front of the rear tires.
Step 5
Attach the draft arms to the lift brackets on either side of the mower deck. The pin welded to the draft arm slides into the bracket hole to support the mower deck. Install a flat washer over the pin and secure it in place with the safety pin.
Step 6
Connect the front draft rod to the welded bracket on the leading edge of the mower deck. The front draft rod is a long L-shaped pin, secured to the mower's frame with a lock nut. Slide the rod into the welded bracket and secure it in place with a washer and safety pin.
Step 7
Wrap the mower drive belt around the drive pulley directly beneath the engine. To provide adequate slack in the belt, grasp the idler sprocket and push it forward. Once the belt is around the drive pulley, slowly release the idler sprocket.
Step 8
Pin the PTO clutch cable to the idler sprocket. Route the cable beneath the drive belt and connect it to the receiver on the idler shaft. Use the safety pin provided to secure the cable in place.
Step 9
Raise the mower lift to the transport position and remove the wooden blocks from beneath the mower deck.
Warning
Wear gloves to prevent hand injuries while working around mower blades and pulleys.