When making your own candles at home, selecting the right combination of fragrances is what will set your candles apart. Soy candles, in particular, work well as scent carriers. Soy wax can hold fragrance oils better than paraffin wax, making it easy to create very strongly scented candles. You can use combinations of essential oils, available at most health food stores, to add aromas to every room of your home.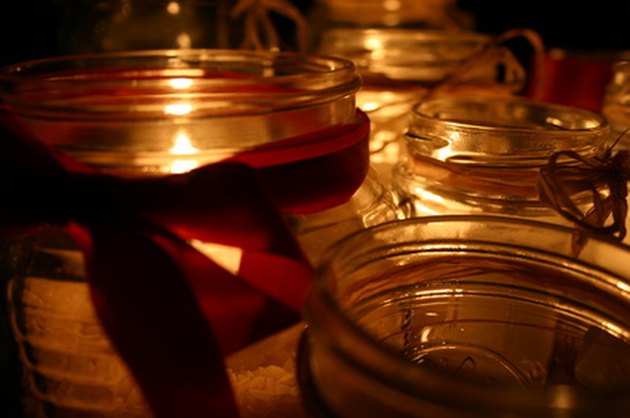 Things You'll Need
Essential oils

Thermometer

Metal whisk

Soy wax

Jar or mold

Wick
Step 1
Combine your essential oils before you begin melting the wax. This will make the process easier and less stressful when it comes time to add the fragrances to the wax. For each pound of soy wax you use, you will need approximately 1.5 ounces of essential oil.
Step 2
Mix together similar essential oils for simple, no-fail fragrances. For example:
Citrus: 2 parts orange essential oil 1 part each of grapefruit oil 1 part lemon essential oil
Floral: 2 parts jasmine essential oil 1 part each neroli essential oil 1 part germanium essential oil
Spice: 2 parts cinnamon essential oil 2 parts ginger essential oil 1 part nutmeg essential oil 1 part clove essential oil
Step 3
Or, you can use aromatherapy techniques for more advanced fragrances. The scent of these candles can have different effects on you depending on the ingredients.
Relaxation: 3 parts roman chamomile essential oil 2 parts lavender essential oil 1 part bergamot essential oil
Energy: 3 parts grapefruit essential oil 2 parts ginger essential oil 1 part rosemary essential oil
Cold Relief: 4 parts eucalyptus essential oil 2 parts peppermint essential oil 1 part oregano essential oil
Step 4
Heat the soy wax in a double boiler or according to package directions. Place a thermometer into the wax. When the temperatures reaches about 175 degrees Fahrenheit, you may begin adding the fragrance. If the wax exceeds 185 degrees, the fragrance will burn off. But if it dips below 170 degrees, the fragrance will not bind properly. Always keep soy wax under 200 degrees Fahrenheit, since it could catch on fire if it gets too hot.
Step 5
Slowly pour the essential oil mixture into the melted wax, using the metal whisk to stir it in. You will want to stir the wax for at least two minutes to properly bind the fragrance.
Step 6
Add any dyes and then decrease the temperature. Pour the wax into molds or jars with a wick as normal.