Things You'll Need
Silicone caulk

Flexible putty knife

Wood putty

Fine-grade sandpaper

Carpet

Shears

Carpet adhesive

Weights

Wood veneer

Heavyweight paper

Utility knife

Adhesive

Sand paint

Resilient sheet flooring

Linoleum knife

Rolling pin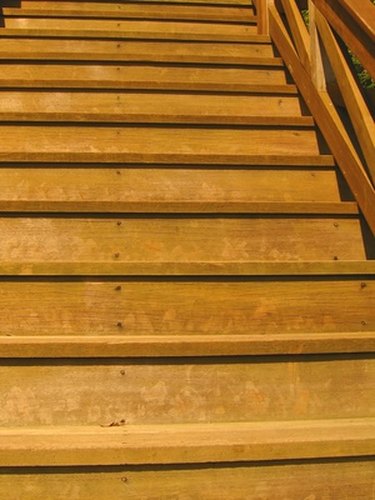 Stair treads, made to fit tightly in between the stringer (the side support) and the risers (the toe-kicks that sit perpendicular to the treads) provide a smooth, solid finish to a staircase. Tread gaps (spaces between the tread and the riser or stringer) greater than a quarter inch aren't normal and require repair because they create an unsafe staircase. Gaps less than a quarter inch are unsightly but can be hid. Fortunately, a simple repair will correct gaps in stair treads.
Step 1
Run a bead of paintable silicone caulk in the gap. Use a flexible putty knife to press the caulk into the gap tightly, and to smooth and level the caulk, making it flush with the tread.
Step 2
As an alternative to caulk, press wood putty into the gap with a flexible putty knife, pressing it in firmly and building it up slightly higher than the surface of the tread. Allow the wood putty to dry fully. Sand the wood putty smooth and level with the tread surface using fine-grade sandpaper.
Step 3
Install carpeting on stairs to hide small gaps between the tread and stringer or riser. Cut a piece of carpeting with shears to fit the stair tread exactly. Apply a coat of carpet adhesive to the stair treads and put the carpet on the tread. Place weights on the carpet for 2 to 3 hours. Carpeting not only hides gaps but looks beautiful and creates a slip-free finish.
Step 4
As an alternative to carpet, apply wood veneer over the treads to hide the gaps. Place a large sheet of paper over the stair tread and use a utility knife to cut out a template the size and shape of the tread. Place the template on top of the veneer, trace around the edge of the template onto the veneer and cut the veneer with the utility knife. Apply a coat of adhesive to the tread and place the veneer on top, covering the gap. Place weights on top and allow the adhesive to dry completely, which usually takes 4 to 6 hours. Apply a coat of clear sand paint to create a slip-free surface.
Step 5
Another option is to install resilient sheet flooring onto the treads. Make a template of the stair tread with heavyweight paper, then trace the outline of the template onto the back of the resilient flooring. Use a utility knife or linoleum knife to cut the flooring. Apply flooring adhesive to the tread and place the resilient flooring on it, covering the gap. Use a rolling pin to firmly press the flooring in place and remove air pockets. Allow the adhesive to dry for 6 to 8 hours before using the stairs.
Tip
Hire a professional to check the staircase for structural integrity before covering tread gaps.