Things You'll Need
Vacuum

Measuring tape

Pencil

Laminate stair nose molding

Miter saw

Construction adhesive

Drill and drill bit

Finish nails

Hammer

Nail set

Laminate flooring to match stair nosing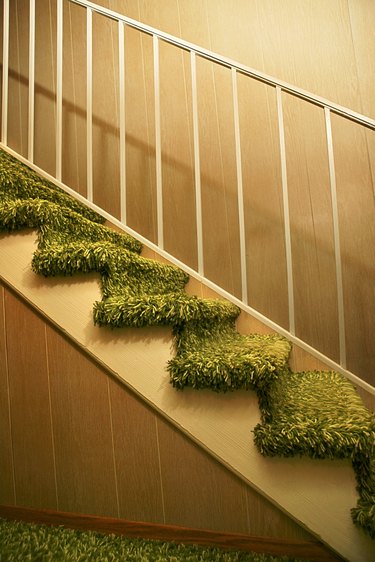 Carpeted stairs are preferred over wood or laminate stairs by many homeowners. This is because you are less likely to slip on carpeted stairs than on hard stairs. However, many homeowners prefer the look of wood or laminate throughout the floors in their home. When homeowners have carpeted stairs and laminate flooring, extra care must be taken to transition the two flooring types. Installing a laminate stair nosing over the top step of the carpeted stairs will tie the stairs into the laminate flooring and make the transition look seamless.
Step 1
Examine the carpeted steps. The carpeting should reach up to the top stair riser. The stair nose molding will then cover the top edge of the carpeting.
Step 2
Vacuum the top edge of the stair where the stair nosing will be installed.
Step 3
Measure the width of the stair with a measuring tape. Transfer the measurement to the laminate stair nose molding with a pencil.
Step 4
Cut the laminate stair nose molding to size on a miter saw. Check the stair nosing to see if it will fit in place on the stair. Trim as necessary.
Step 5
Apply a 3-inch-wide snake-like bead of construction adhesive on the back of the laminate stair nose molding. Press the stair nosing in place on the step. The stair nosing should cover the top part of the carpeted stair riser and fit on the wood subfloor of the top step.
Step 6
Pre-drill holes in the stair nosing with a drill and drill bit. The holes should be 3 inches apart.
Step 7
Place finish nails in the pre-drilled holes, and hammer them down to anchor the laminate stair nosing in place. Use a nail set to set the nails below the surface of the laminate.
Step 8
Install the laminate flooring out from the laminate stair nosing into the rest of the room.