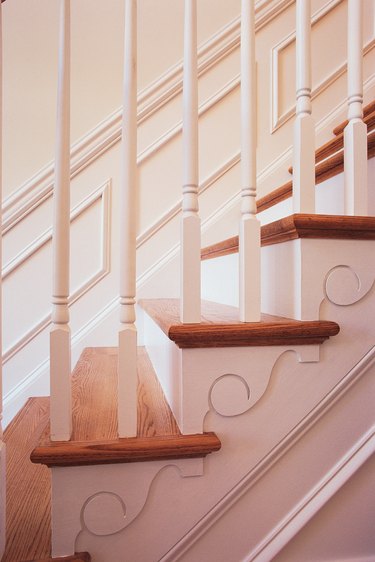 Trimming your stairs adds elegance and durability to the staircase. Trimming the stairs refers to adding molding on top of the stair treads on the inside surface of the staircase, and adding molding under the treads on the outside of the staircase. Painted molding is easier to clean than painted drywall or other wall treatments. It protects your walls on the inside of the staircase from shoe scuffs and other damage.
Different Types of Trim
The simplest type of trim is a quarter-round molding that covers the crevice between the riser, or tread, and the wall. However; if you have hardwood treads with a rounded nose, the flat molding doesn't conform to the shape of your tread. A wider trim protects more of the wall. Basically, wide trim is a stringer that sits on top or below the tread with a decorative or molded edge on one side. The molding on this trim is a straight diagonal line from the top of the staircase to the bottom.
When to Trim Your Staircase
If you are adding molding to each step, you must wait until the stairs are finished. Cut each piece of molding to fit a specific riser or tread and nail each piece in place. The molding covers the gap between the tread and the wall, so final flooring must be in place before adding the quarter-round. The easiest time to trim your staircase with the wider, diagonal molding is before installing the top treads. This allows you to trim the treads to fit the stairs after trimming. If you choose a rounded bull-nosed step, you must either install the trim before installing the tread, or remove the tread. After installing the trim, re-measure each tread and cut to fit.
Interior Staircase Trim
On the inside of the staircase, place the trim on top of the treads. There are two different ways to accomplish this. You may choose specialized stairway trim. This is 12- to 14-inch-wide lumber with a decorative molded edge on one side. Simply measure and cut each tread into the plain edge of the lumber at a 45-degree angle from the milled edge. These notches fit on top of the treads. Another method is to choose wood the same width as your chosen molding. Measure and cut each tread into one side of the lumber and fit the lumber on top of the treads. Trim the molding to fit on top of the lumber.
Exterior Staircase Trim
Trim on the outside of the staircase lies under the tread of the stairs. Measure the underside of the tread of each step and cut each step in the stringer to fit. Place the stringer under the steps and nail the stringer into place. Counter sink the head of each nail and putty the hole over the nail head. Sand the putty so the length of the trim is smooth before painting.