Things You'll Need
Radial arm saw

Flat-head screws

Screw clamps

Drill press

Orbital sander

Grit sandpaper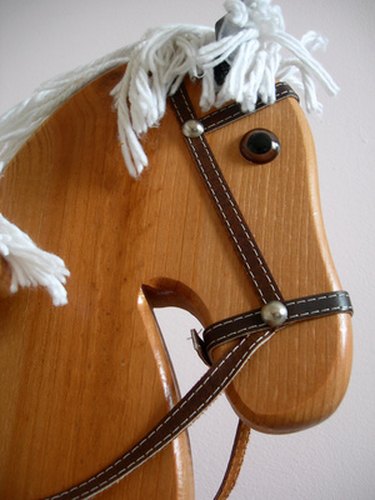 Wooded horses can make a nice gift for children and building a rocking horse is more sentimental then buying one. Rocking horses can be created with different effects, including accessories and designs. You may find the joy in making your child's dream come true.
Step 1
Trace the shapes of the horse onto mylar poster board. Once you cut out the head, body, seat, ears, tail and rockers, those parts will be thick enough to place onto the wood that you will use. While tracing the shapes of the body, initial each body part A through K. Initialing each body part makes it easier for you to detect which part goes with what.
Step 2
Place each paper print onto the wood and begin trimming around the body shapes. While using the radial arm saw to trim around the wood, leave enough room around the paper in which to place the screws and holes. After the rockers have been properly traced, use a band saw to trim the pieces. Each shape should also be labeled with a letter.
Step 3
Sand the parts with an orbital sander, particularly around the edges of the wood frames that hold the horse together. Cut carefully along the traced lines and make sure that the edges are not jagged. Smooth the flat surfaces with grit sandpaper.
Step 4
Drill two holes with a drill press on the head and the body of the horse. Place glue into the holes and match the head of the horse with the body, which is also the seat of the horse. Drill two holes at the top part of the body, fill with glue and place the arms of the horse in the holes. Do the same for the back legs. The rocker can now be applied with four holes along it, with glue placed into each hole. Place four flat-head screws along the holes for security. The ears can be placed with two holes on the head and screw clamps to hold them until dry.
Step 5
Place a thin coat of stain on the rocking horse after making sure that all edges are clean and smooth. While applying first coat of stain finisher, fill any holes or gaps on the horse. Apply the first coat of stain and allow it to site for at least six hours. Apply a second coat of stain to give the rocker a little shine. Allow this finisher to dry for 24 hours.
Tip
Consider adding a wooden saddle to your rocking horse.