Things You'll Need
Table saw

Dado blades

2 pieces of 2-by-4-by-84-inch lumber

2 pieces of 2-by-4-by-46 1/2-inch lumber

1 piece of lumber 2-by-8-by-49 1/2-inch lumber

4 casters

Variable speed drill

Phillips head screw tip

1-inch wood screws

Wood glue

3-inch drywall screws

1 piece of 48-by-82 1/2-by-3/4-inch plywood

Damp cloth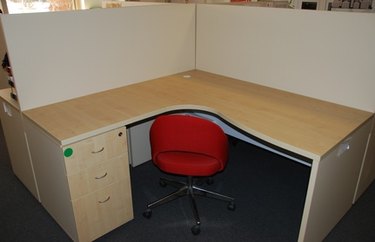 Dividing a room into two rooms is easy with a portable wall. Other uses for a portable wall are to display artwork as well as for a presentation board for a home-based business. Easy-to-assemble parts make it a project for the do-it-yourself homeowner. Solid lumber is the best choice for the frame. A piece of plywood in the center adds versatility and can be covered in materials or painted to match home décor. Choose casters for the portable wall based on its weight.
Step 1
Install the 3/4-inch dado blades in the table saw. Dado blades have two outside saw blades with chipping blades in the middle. You can put as many chipping blades between the outside blades as needed to cut the desired width of a "dado" or groove in wood. Set the height of the blades at 3/4-inches. Move the fence of the table saw to 1 3/8-inches. Turn the table saw on.
Step 2
Lay the 2-by-4-inch lumber pieces on the 3 1/2-inch side and run the boards through the dado blades one at a time. Turn the saw off. This creates a groove in the center of the lumber. These are the frame pieces for the portable wall.
Step 3
Put the 49 1/2-inch lumber on a work table. Measure from the long edges and make several marks at two inches. Place a framing square on the marks and draw a line down the length of the lumber. The space between the lines indicates the placement of the frame. Turn the piece over and install the casters on the corners with one-inch wood screws.
Step 4
Apply glue to the ends of the 46 1/2-inch lumber. Place one of them between the 84-inch lumber and secure them with three-inch drywall screws. Slide the plywood into the grooves.
Step 5
Set the remaining frame piece on top of the plywood and between the sides of the frame. Secure it through the sides of the frame with three-inch drywall screws. Clean up the excess glue immediately with a damp cloth.
Step 6
Stand the portable wall on one side. Spread some glue between the lines of the 49 1/2-inch lumber. Stand it on its 7 1/2-inch end and set it against the wall frame on the lines drawn. Secure it to the wall through the bottom of the piece with three-inch drywall screws. Clean up the excess glue with a damp cloth.
Tip
Use lightweight lumber such as spruce to build the frame making it easier to move around.
Allow time for the glue to setup before using the portable wall.
Warning
Do not leave power tools unattended in the presence of children.
Do not apply paint to the portable wall without proper ventilation.