Things You'll Need
Tape measure

Pencil

Quarter round molding

Chop saw

Compressor

Nail gun with nails

Carpenters glue

Wood putty

Wiping cloth

Stain or paint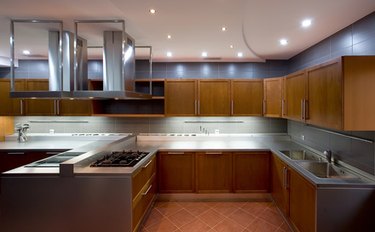 Installing quarter round around the outside of your cabinets can be done yourself using simple tools. If you have installed a new floor and there are gaps between the floor and the cabinets, quarter round molding can be installed to cover any gaps or imperfections. Quarter round can be purchased from any home-improvement store in almost any type of wood. The molding can be nailed to the cabinets and stained or painted any color you like.
Step 1
Measure with a tape measure the distance the quarter round molding needs to be. If the end is a corner, mark the piece the way the angle needs to be cut using a pencil.
Step 2
Measure and mark the quarter round using a tape measure and pencil.
Step 3
Cut the quarter round using a chop saw. If the quarter round is making a 90-degree corner, set the chop saw at a 45-degree angle and cut the quarter round. Cut slowly to ensure a high-quality cut.
Step 4
Place the quarter round molding into position on the cabinet. Fasten the quarter round to the cabinet using a nail gun and compressor. If you do not have access to a nail gun, you may use a hammer and finish nails to secure the molding in place. Apply carpenters glue to any joints in quarter round molding.
Step 5
Putty the nail holes with wood putty by pressing the putty into the hole with your hands. Wipe off the excess putty with a cloth.
Step 6
Repeat this process with the remaining pieces of quarter round.
Step 7
Stain or paint the quarter round to your liking.