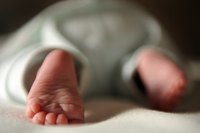 Creating a keepsake baby footprint is a wonderful way to commemorate your child's infancy. To ensure that your keepsake will last for years, choose specialty paper like scrapbook paper that is acid-free and that will hold up over time. The ink that you select must also be acid-free as well as a nontoxic, water-based ink because it will be used on your baby's delicate skin. Create the print of you baby's foot during a time when your child is relaxed and happy for best results.
Things You'll Need
Acid-free paper
Acid-free, nontoxic, water-based ink pad
Mild soap
Towel
Sponge, if necessary
Purchase a nontoxic, water-based ink pad and a sheet of acid-free paper in whatever colors you like. Both the ink and paper can be found at craft or art stores. It may be helpful to purchase additional pieces of paper in case one copy gets smudged during the process.
Wash your baby's feet with a mild soap and lukewarm water to ensure that they are clean. Clean feet will transfer the ink better for a sharper image. Dry with a towel.
Place your baby in a comfortable and safe position, such as holding him or placing him in a high chair or bassinet. Prepare your supplies by making sure the ink and paper are nearby.
Cover one of your baby's feet with ink by pressing the ink pad against the foot. You may use a sponge to transfer the ink from the pad to the foot for more complete coverage if you desire.
Hold your baby's foot gently in one hand, and press it against the paper. Press lightly with gentle, even pressure for the best impression.
Reapply ink and make another footprint if you need additional prints or if the baby moved and smudged the print.
Allow the ink on the print to fully dry before use.
Rinse the ink from your baby's foot using water and mild soap. Dry with a towel.