Things You'll Need
Trisodium phosphate

Bucket

Scrub brush

Hose

Hose nozzle

Exterior, oil-based masonry primer

Rough texture nap roller

Paint pan

Oil-based masonry primer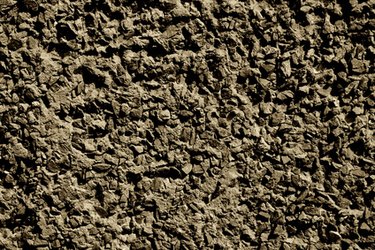 Concrete aggregate is created by pouring concrete and stripping away the top layer to reveal the small stones that are part of the concrete formula. Exposed aggregate is used in driveway and walkway applications. It often is mixed with brick and stamped concrete to create decorative landscape elements. Over time, exposed concrete aggregate can get worn. A change to your landscaping or house color may prompt the desire to paint your aggregate to match. Whatever your reason for painting your aggregate, treat it just like painted concrete to get a solid, durable finish.
Step 1
Mix trisodium phosphate (TSP) with water according to the package directions. Dip a scrub brush into the mixture and scrub your concrete aggregate. Driveways and walkways are greasy from car oils. Remove all residue from the surface.
Step 2
Turn your hose nozzle to its highest pressure setting. Hose down the aggregate to remove the TSP. Let the aggregate dry overnight.
Step 3
Prime the concrete aggregate with exterior, oil-based masonry primer. Apply the primer in a thin coat with a rough texture nap roller. The rough texture roller will get in between the stones in the aggregate. Let the first coat dry. Apply an additional coat. Let the final coat dry overnight.
Step 4
Paint the aggregate with oil-based masonry paint. Use the same technique used to apply the primer. Apply a thin, even first coat. Let the paint dry to the touch. Apply two additional coats, allowing each coat to dry before applying the next.
Step 5
Let the painted aggregate cure for seven days before allowing traffic on the surface.
Tip
Exposed concrete aggregate can be given new life with a high-gloss clear coat instead of paint. The clear coat will enhance the existing color of the aggregate. Apply the clear coat with a short nap roller.