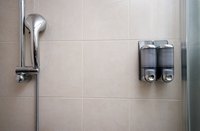 Water spots and soap scum build up quickly on a glass, shower door. To make shower doors easy to clean, some homeowners apply Rain-X, which allows water to slide off the door. Doing so can save you time cleaning shower doors.
Things You'll Need
Clean your shower door thoroughly. The shower door must be completely clean for the Rain-X to work.
Use the cloth and thoroughly dry the shower door.
Apply the first coat of Rain-X, by spraying the Rain-X on the inside of your shower door, and using the cloth to create a thin coat. Overlap each stroke a bit to guarantee you don't miss a spot on the door. The Rain-X creates a haze on your shower door. Let the first coat dry.
Apply the second coat. Allow the second coat to dry completely. The second coat creates even coverage on your door, and if you accidentally missed a spot, the second coat will cover it.
Use a dry cloth, and rub the haze on the shower door away. You can add a little water to help get the haze off the door.