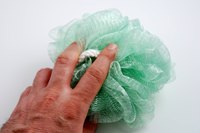 Clean the soap scum off shower doors and prevent the buildup of mildew and mold that can be dangerous to your family. Use a homemade cleaning solution made from readily available ingredients to cut through the soap scum and hard-water buildup. Choose homemade ingredients over commercially available chemicals to save money and minimize the risk of adverse or allergic reactions. Follow some basic precautions to minimize the buildup each time the shower is used.
Things You'll Need
Baking soda
Ammonia
White vinegar
Bucket
Gloves
Safety goggles
Respirator mask
Soft-bristle brush
Soft, dry, absorbent cloth
Combine 1/2 cup of baking soda, 1/3 cup of ammonia, 1/4 cup of white vinegar and 6 cups of water in a bucket to make a homemade cleaning solution that will remove soap and hard-water deposits.
Wear gloves, safety goggles and a respirator mask in the enclosed confines of the shower stall. Use a soft-bristle brush to scrub away the soap scum and hard-water deposits on the doors and walls. Allow the cleaning solution to remain on the shower doors and walls for at least 30 minutes.
Repeat the cleaning process one more time.
Rinse the shower doors and walls thoroughly with hot water.
Wipe the shower doors and walls with a soft, dry, absorbent cloth to remove all cleaning solution residue.