Things You'll Need
Jigsaw

Phillips screwdriver

Tarp

Sledge hammer

Utility knife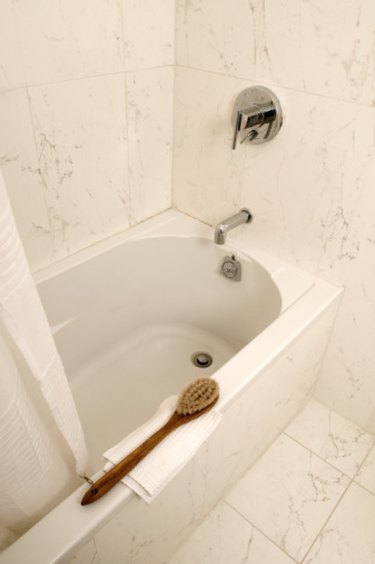 Bathtubs over time can tend to look aged, just as toilets and other fixtures in a bathroom. You may want to remove the bathtub from a bathroom altogether and replace it with a standing shower, or install a larger jetted tub to add more luxury to your bathroom. Before you can install a new bathtub or shower, though, you must remove the old bathtub first. Because you are replacing the tub, the removal process becomes much simpler and takes up less time.
Step 1
Turn off all the water in the home by shutting off the main water valve. Alternatively, remove the access cover from the wall behind the bathtub's plumbing, or use a jigsaw to cut an access hole in the wall, and turn the shutoff valves on the pipes to make sure you do not have any problems with flooding while removing the bathtub.
Step 2
Remove any hardware attached to the tub itself, such as hot and cold water handles by removing the anchoring screws and pulling the handles off. Turn the faucet counterclockwise if it is inside the tub and is not attached to the wall above the tub.
Step 3
Cover the tub completely with a tarp if the bathtub is made of porcelain. Use a sledge hammer to break the tub up into small pieces, and throw away the porcelain pieces.
Step 4
Cut the tub apart into smaller pieces using a jigsaw if the tub is made of fiberglass or polymer. Use a utility knife to cut away any pieces of the bathtub that are still attached to the wall with caulking.
Step 5
Use the utility knife to remove all leftover caulking from the walls or floor and sweep up leftover debris from the old bathtub.