Things You'll Need
Vinegar

Warm water

Sponges

2 tbsp. liquid detergent

Sealer

Paint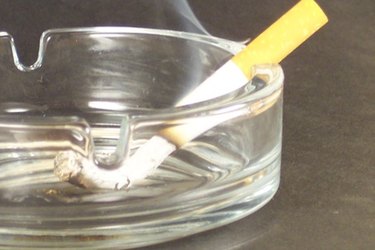 Smoke from cigarettes often leaves behind yellow stains on the walls. The walls appear dull, and the stains stick to the surface of nonporous surfaces in the home as well as the walls. The odor from cigarette smoke often sticks to deep into the walls, but you can remove the unsightly yellow stains that do not penetrate as deeply. Common household ingredients will aid you in the process of cleaning the walls and remove the cigarette smoke stains, but heavy stains may require a fresh coat of paint.
Step 1
Make a vinegar solution to clean the walls. Combine one part of white vinegar with one part of warm water. Stir until the ingredients mix well together.
Step 2
Use a sponge to wipe down the wall. Wipe all the nonporous surfaces such as blinds, walls and cabinets as well. Wring the sponge out in a sink, and dip it back into the vinegar solution once it becomes dirty.
Step 3
Mix another solution of 2 tbsp. of liquid dishwashing detergent and 1 qt. of water. Wipe the walls down with the soap solution. This will remove any hard to remove yellow stains.
Step 4
Use a clean sponge to rinse the walls and surfaces. Dip the clean sponge into water, and wipe the walls down to rinse the soap solution from the walls. Try to avoid soaking the walls with too much water because this will make the paint crack and potentially form bubbles.
Step 5
Protect your walls from future yellow smoke stains. Paint them with a sealer, and then repaint the walls with your desired paint color.