Things You'll Need
Tile sealer remover

Plastic container

Rag

White nylon scrub pad

2 cotton towels

Clean cloth

Water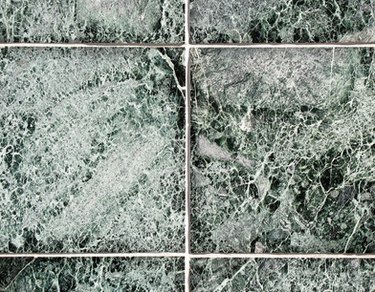 Grout sealers are used to seal grout around tiles, preventing debris from marring the grout. Because grout is very porous, oil, water and food residue can collect in the grout and form unsightly stains. Grout sealer protects tiled floors and keeps the grout looking new and beautiful for many years. While applying grout sealer to the grout, it is common to accidentally smear some of the sealer onto the surrounding tiles. Fortunately, certain solutions are effective at removing grout sealer from ceramic tiles. Test the solution on an inconspicuous area of the tile before attempting to remove the sealer.
Step 1
Pour tile sealer remover into a plastic container. Do not dilute the sealer remover with any solutions.
Step 2
Dip a rag into the sealer remover. Apply a thick layer of sealer remover over the grout sealer.
Step 3
Allow the sealer remover to absorb into the grout sealer until it is softened. Do not allow the sealer remover to dry on the tile.
Step 4
Scrub the softened grout sealer with a white nylon scrub pad. Continue scrubbing until the grout sealer is completely loosened from the ceramic tile.
Step 5
Wipe up the loosened grout sealer residue with a cotton towel. Dampen a clean cloth with water.
Step 6
Wipe the damp cloth over the tile to thoroughly rinse away the sealer residue. Dry the ceramic tile with another cotton towel.