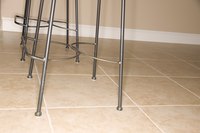 The Minwax company manufactures and distributes a variety of stains designed to enhance and protect the surface of wood. Their products work for all indoor and outdoor wood surfaces, ranging from hardwood floors to furniture items and even decks. When applying Minwax stains, spills sometimes occur. If the spill occurs on a tile surface, removing it quickly ensures no permanent damage remains. The removal method for Minwax stain differs depending on whether it is water-, gel- or oil-based.
Things You'll Need
Paper towel
Bucket
Warm water
Liquid dish soap
Scrub sponge
Cloth
Disposable gloves
Paint thinner or mineral spirits
Minwax Water-Based Stains
Wipe the Minwax stain using a paper towel to absorb as much of it as possible from the surface of the tile. If the stain is already dry, proceed with the removal process.
Place 1 gallon of warm water into a bucket and squeeze 1 to 2 tsp. of dish soap into it. Insert a scrubber sponge into the bucket and stir the water around to form bubbles.
Squeeze most of the water out of the sponge and then apply it directly to the Minwax stain on the floor. Scrub the stain using firm, circular motions until the stain begins to dissolve. Rinse the sponge and then continue wiping until no more stain remains.
Wipe the floor with a clean, dry cloth to remove all moisture and stain residue from it.
Minwax Oil-Based and Gel Stains
Put on disposable rubber gloves and open all doors and windows to provide adequate ventilation in the area.
Wipe the tile floor using a paper towel to remove as much liquid stain from it as possible.
Pour 1 to 2 tbsp. of either paint thinner or minerals spirits onto a clean cloth.
Place the cloth on top of the stained areas of tile and allow it to sit for 10 to 15 seconds.
Press down on the cloth and move it in circular motions using firm pressure. Continue until the stain softens and detaches from the floor.
Wipe the tile floor with a damp cloth to remove any residue from it, then dry it with another cloth to remove the moisture.