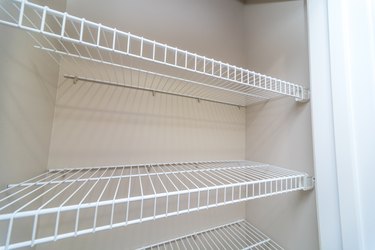 Cleaning wire shelving can be tedious and time-consuming, requiring you to wipe down each wire individually. Luckily, there are a few effective methods for cleaning wire shelves to make the job a little easier. Before starting, experts recommend vacuuming the shelves with an appropriate attachment to remove excess dirt or debris. This initial vacuum makes your cleaning process much easier.
Cleaning Wire Shelving With a Degreaser
If you can't remove the shelves, one thing that you can do is to spray them with a degreaser. First, remove all clothing and other items from the shelves, and then lay towels or a tarp down on the floor underneath to protect it.
Spray all the shelves thoroughly, and then let the cleaner sit for a few minutes. Wipe with a clean sponge, starting from the top. Use the rough side of the sponge for particularly stubborn stains.
Cleaning Wire Shelving With White Vinegar
If you can easily remove your shelves and if they are a manageable size, it is much easier to soak and rinse them than spray the degreaser and then go over all of the wires to wipe it away. Some wire shelving easily slides off the brackets, so wiggle yours around and see if you can loosen it.
Mix 2 parts of water and 1 part of white vinegar in a bucket. You can add a little lemon juice or essential oil to cut the harsh vinegar smell. Soak the shelves in the mixture for about 30 minutes. Inspect the shelves, and use a sponge or cleaning rag to scrub away any particularly dirty or sticky areas. Use Goo Gone or a related product if necessary to remove any stuck-on gunk.
Then, rinse the shelves in the sink or shower or use a hose to remove the vinegar mixture. Allow it to dry before putting it back together and putting items on it again.
Keep It Clean: Use Wire Shelf Covers
If you've recently cleaned your wire shelves or have installed new ones and want to keep them pristine, you can use wire shelf covers. These covers are also great because they prevent items from falling through the slats between the wires.
You can buy wire shelf covers on Amazon, big-box stores or hardware stores, but if you want something unique, you can order cute printed ones from craft sites like Etsy. Some adhere to the wire shelving or are made of vinyl to avoid sliding around. You can also make your own, which is handy if you don't like the look of wire shelving and want something more stylish like wood.
If your wire shelves are old and worn, especially if they have some signs of rust, you may want to paint them instead of simply cleaning them. Spray paint is the easiest way to paint wire shelves. Always spray paint in a well-ventilated space. Do it outside or in the garage to prevent a mess and protect your health.
Lay down cardboard, plastic, paper or another material on a flat surface underneath and around the shelving. Use the spray paint according to the manufacturer's instructions. Usually, you shake the can and then hold it about 6 inches away from the shelves and spray in an up-and-down direction until you have entirely coated the shelves.
Finally, allow the shelves to dry completely in a clean and well-ventilated place.