Afghans are popular crochet projects. Crochet goes along so quickly that a big project isn't especially time consuming. Since an afghan is a large square or rectangle, you can improvise a pattern with little worry about the end result. Make up a sweater pattern as you go along, and the finished product may only vaguely resemble a wearable garment. But your afghan is sure to look like an afghan no matter how much you experiment. By crocheting strips with your favorite stitch patterns, and joining the strips, you'll wind up with an afghan that reflects your taste and style.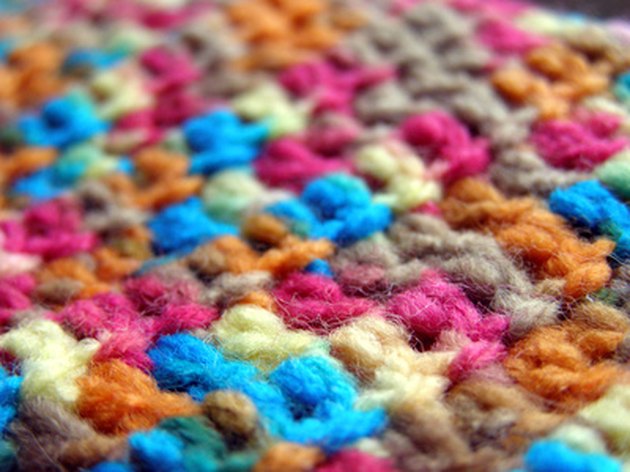 Step 1
Select a few interesting crochet stitch patterns from a stitch dictionary, many of which are available for free online.
Step 2
Chain 20, or a number of stitches appropriate for your selected stitch pattern. Crochet into your chain, following the stitch pattern. Continue crocheting until the piece reaches your desired length, which can vary from 40 to 80 inches. Break the yarn and pull it through the final loop.
Step 3
Repeat step 2, using different stitch patterns, making sure that each strip is the same length. Continue making strips until you have enough to achieve your desired width, which can vary from 36 to 50 inches.
Step 4
Arrange the finished strips in an order that is aesthetically pleasing. Crochet the strips to each other using a slip stitch or a single crochet stitch all the way down the strip. Use a contrasting yarn to outline every strip, or use yarn that matches one of the strips being joined for a subtle seam.
Step 5
Crochet a border on the afghan, if desired, using a contrasting color yarn.
Tip
You can use yarn of varying color and weight for each strip of the afghan. Be sure to use the appropriately sized hook for each yarn.