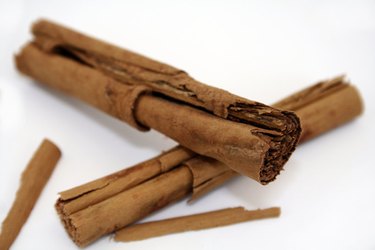 Potpourri oils are fragrant liquids that people use to freshen up potpourri arrangements and many people like using cinnamon oil. While there is a large variety of oils you can use, cinnamon is ideal for a sweet, spicy scent during the fall and winter seasons especially. Refresh a decorative bowl of shredded pinecones or an arrangement of dried flowers, with homemade cinnamon oil. Make extra and store the oil in decorative bottles. Cinnamon oil also makes a nice homemade gift for the holidays.
Step 1
Fill a large-mouthed glass jar with cinnamon sticks. Use fresh cinnamon sticks not older, stale ones. If you are unsure of your sticksâ?? freshness, scrape the sticks slightly with a micro-planer.
Step 2
Add a light olive oil, like extra-virgin, to the jar of cinnamon sticks. Cover the jar tightly with the lid.
Step 3
Place the jar in front of a window. Sunlight will heat the oil slightly, cooking the scent from the sticks.
Step 4
Shake the jar daily. Leave the jar in the window for several weeks.
Step 5
Remove the jar after about three to four weeks. Pull out the cinnamon sticks.
Step 6
Place a small funnel in the mouth of small amber glass bottles. Please a small cheesecloth inside the funnel.
Step 7
Pour the oil slowly, filtering it through the cheesecloth, into the amber bottles.
Step 8
Put the lid on the bottles after you fill them. Store your cinnamon potpourri oil in a cool area like a closet.
Tip
For a faster concoction, mix 10 drops of cinnamon essential oil with 1 cup of olive oil.