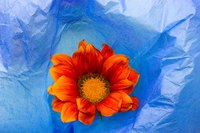 Decorative tissue paper is the ideal medium for use in ornamental arts such as decoupage, and just about anyone can do it. Tissue paper, either plain or with decorative patterns, are not only eye appealing as gift bag stuffers but also glue nicely to surfaces like glass, plastic and wood. Whether looking for a craft to work quietly by yourself or with a large group, gluing tissue paper is inexpensive and dries quickly. If you know more about decoupage, you can add visual interest to plain décor items in your home.
Things You'll Need
Plastic tablecloth or garbage bag
Tissue paper
Plate
Pencil
Scissors
Small sponge
Warm water
White glue
Paper cup
Sponge paintbrush
Cover your table with a plastic tablecloth or garbage bag. This will protect the table from glue spills.
Lay the tissue paper on the table. Straighten out any wrinkles or creases in the tissue paper.
Lay the plate on top of the tissue paper and outline the plate with the pencil. Do this lightly so that you do not tear the paper. If you are working more than one plate, start at the edge of the table and move the plate around to draw multiple templates.
Remove the plate from the tissue paper and set it aside. Cut out the tissue paper with sharp scissors.
Dampen a small sponge with warm water. Dab the tissue paper with the damp sponge, totally saturating it.
Pour white glue into a paper cup. Only pour about an inch of glue into the cup. Dip your sponge paintbrush tip in the glue.
Turn the plate upside down in front of you. Rub the entire back of the plate with the glue.
Press the tissue paper wrong side up onto the glued plate. Allow the plate to dry for several hours before turning it over.
Seal the tissue paper by applying a second coat of glue to the back of the tissue paper.