Things You'll Need
Liquid dish soap

Water

Olive Oil

Nail polish remover (with acetone)

Cotton balls

Washcloth

Towel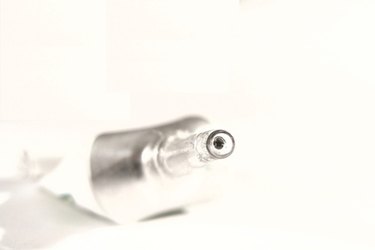 Glue is never fun to have stuck to your skin. Whether you simply spilled a glob of glue on yourself or have leftover glue from medical procedures on your skin, it is always an aggravation to try to get it off. Rest assured, however, that glue, no matter how strong, will eventually dry up and peel off on its own. But there are a few things you can do to get the glue off your skin quickly.
Step 1
Wash the affected area with warm, soapy water. Use the washcloth to get the glue off of your skin. Use gentle, circular motions.
Step 2
Pat dry area to see if the glue has been removed, using the towel.
Step 3
Wash the affected area again if the glue has not been removed.
Step 4
Apply nail polish remover to the affected area if the soapy water does not work.
Step 5
Wash off the acetone with clear cool water.
Step 6
Apply olive oil to the freshly cleaned area to moisturize and remove any glue particles that may be left on the skin.
Tip
Olive oil can also be used before washing your hands to loosen up the glue.
Warning
Do not get nail polish remover in your eyes, as it will burn.