Things You'll Need
Baby powder

Urethane foam, part A

Urethane foam, part B

Metal bucket

Wooden stir stick

Snow flocking

Coffee can

Scissors

Glitter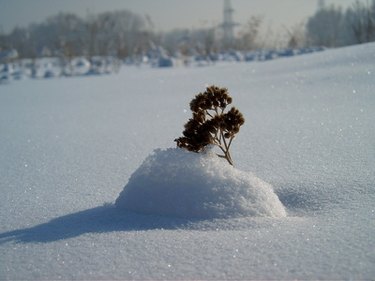 Creating fake snow is sometimes a necessity for a variety of craft projects such as plays, films, museum dioramas, shop displays, interiors of snow globes and other endeavors. However, the problem with most fake snow is that it clearly looks fake. To create realistic-looking fake snow, you need two things: a believable fake snow foundation and surface. Use expanding foam to create a legitimate base of fake snow.
Step 1
Apply a thin coating of baby powder to your rubber gloves. Mix equal amounts of urethane foam parts A and B into the metal bucket. Stir it quickly and thoroughly for just under a minute with the wooden stick.
Step 2
Pour the mixture onto the area you'll cover with fake snow. For example, it could be the floor of a movie set, the bottom of a diorama, the stage of a theater and other areas. The foam will start to harden slightly within two minutes, so shape it with your hands before it does until it begins to resemble the appearance you desire.
Step 3
Sand the foam with a piece of sandpaper to give it the final finishing touches, removing bumps or irregularities from the surface. Pour snow flocking into a coffee can. Punch holes into the top of the can carefully with scissors.
Step 4
Dust your base of expanded snow with snow flocking to give it a more realistic appearance of fluffy snow. Shake some glitter on the surface to give it a shimmery appearance.
Tip
Read the directions on the snow flocking. Some brands may require that you mix it with water.
Warning
Wear rubber latex gloves.