Things You'll Need
Metal clothes hangers

Heavy pliers

Hammer

Spray paint

Large plastic beads

Hot glue

Ribbon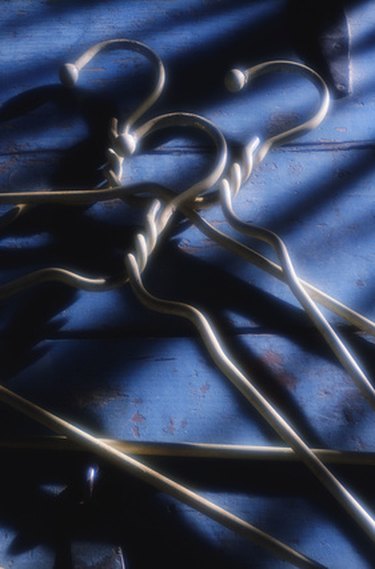 Beaded clothes hangers can be found in upscale boutiques that feature infant and small children's clothing. Often the hangers have a hook, shoulders and a curved end but no bottom rod. The metal hanger is covered with plastic beads and the neck of the hanger is decorated with a ribbon. Larger versions of this hanger are showing up in teenager and adult closets because the beads do a particularly good job of holding spaghetti straps in place on a hanger.
Step 1
Select a sturdy metal clothes hanger. Untwist the wire at the neck of the hanger using heavy pliers. Pound out the end of the wire with a hammer. Try to remove the twists by placing the hanger over the flat surface of a metal vise. Use the hammer on each side to flatten out the wire.
Step 2
Hang the hook of the clothes hanger and spray paint the hanger to match the color of the beads you have selected. This is particularly important with transparent beads. Allow 20 minutes for the paint to dry.
Step 3
Thread large opening beads onto the wire. You can create a pattern or use all the same beads. Often faux pearls, whites, pinks, blues, silvers or golds are used. Once the bottom of the hanger is completely full, twist the end of the wire around the neck of the hanger.
Step 4
Thread beads over the hook of the hanger and hot glue the last bead in position.
Step 5
Wrap ribbon around the twisted wires to completely cover the wires at the neck. Tie the ribbon into a bow.
Tip
You can embellish the ribbon by adding charms, beads, rhinestones or bits of lace.