Things You'll Need
4 sections PVC pipe, 8-feet, 1 1/2-inch diameter

2 4-way joints

4 sections PVC pipe, 18-inch, 1 1/2-inch diameter

2 "t" 2-inch by 3/4-inch inserts

1 drapery rod, 8 1/2-feet

Drape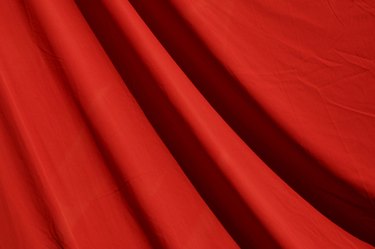 A pipe and drape is a handy thing, for it can be used for trade shows, backdrops for outdoor theater or photography and much more. You can rent pipe and drapes, but the cost can be prohibitive after a while. Save yourself the money and make your own pipe and drapes.
Step 1
Assemble the bottom of the pipe and drape. Lay one 8-foot section of PVC pipe on the ground and insert its ends into the two 4-way inserts. The specialty inserts can be found online at companies like Hartnagel.
Step 2
Insert two 18-inch pieces of PVC pipe into each of the 4-way insert's bottom openings. Do the same with the other 4-way insert on the other end of the 8 foot PVC pipe. When you are done, the pipes should look like a capital "I" lying on its side or a very wide and flat capital "H". The remaining opening of the 4-way insert, which is pointing straight up from the floor, should be empty.
Step 3
Insert the remaining 8-foot PVC pipe section into the 4-way insert. Put a "t" insert into the top of the the 8-foot pipes. Turn the "t" insert so that its arms point toward each other.
Step 4
Remove the decorative ends from the drapery rod and insert the ends into the "t" inserts, then replace the rod's decorative ends. Adjust the drapery rod so that it extends evenly beyond each end of the upright PVC pipes.
Step 5
Hang the drape from the drapery rod, adjusting it so that it hangs evenly and hides the PVC pipes from view.
Tip
For a cheaper option, make your own drape from any fabric you choose. To make the drape, buy fabric that is 9-feet long (or more, if you would like a fuller drape). Sew a channel onto the back of the fabric through which the drapery rod can pass, then hang the rod as described above.