Things You'll Need
Tape measure

Metal tubes

Spring

Rubber end caps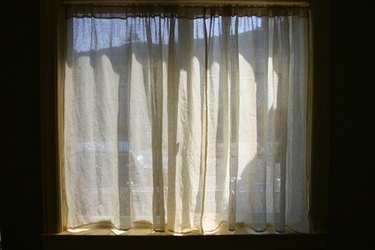 A tension rod is a quick and easy way to hang curtains across any size window. Most shower curtains are also held in place by a tension rod that expands to fit between the walls. Assembling a tension rod can be especially useful if you live in an apartment where there are restrictions on the type of hardware you can affix to the wall.
Step 1
Measure the inside of the opening where the tension rod will span. Divide this measurement in half and add six to 12 inches to it. This will be the length of the two pieces of your tension rod.
Step 2
Visit a hardware or home improvement store and buy two metal tubes according to your calculations in Step One. The two tubes should be different sizes so you can slide one inside of the other.
Step 3
Choose a sturdy metal spring that will fit inside the larger tube.
Step 4
Attach a rubber end cap to one end of each tube. Insert the spring into the open end of the large tube. Slide the uncapped end of the small tube into the large tube.
Step 5
Pull the two pieces of the tension rod toward each other to compress the spring. Set one end of the rod against the inside of the opening you are covering. Line the other end up so that the rod will form a straight line across the opening when it expands. Slowly release the spring until the rod fits snugly against both sides of the opening.