Things You'll Need
Shovel

Backhoe (for larger jobs)

plants

mulch

decorative rocks

Organic fertilizer

Organic mulch (optional)

Flat-edge spade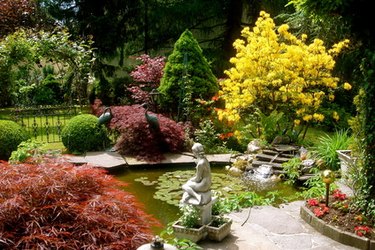 Few things are lovelier than the sloping lawn on a farm with wind running over the grass and bales of hay leaning against an old barn. One simple addition that can add to the functionality and efficiency of a farm as well as the beauty of a farm yard is a pond. A pond can catch a runoff from rain water, be a resource for watering crops and animals or even be used for raising fish. Embellishing the area around it with native plants can complement the functionality with beauty.
Landscaping a Farm Pond
Step 1
Determine the size of your pond. Write down the measurements. Decide how much area you wish to landscape.
Step 2
Determine the color scheme you wish to use. Keep this in mind if you choose to use any flowering plants. Buy flowers and plants that are hardy and require little maintenance. Consider shrubs that do well in multiple environments and perennial flowers.
Step 3
Draft a plan to guide your planting; this will save you time later. Create beds for planting flowers and ground cover by removing the grass with a flat-edge spade. Rake the beds and spread an organic fertilizer to ensure healthy plant growth. Plant flowers sparingly; you don't want to crowd the pond. Consider planting beach grass or reeds as this will prevent soil erosion.
Step 4
Add texture and function by placing large rocks or small boulders strategically along the edge. These will provide visual layers to your landscaping as well as a natural bench.
Step 5
Create a manicured look in beds around the pond by mulching around the flowers and ground cover. Create a more natural look by planting grasses and wildflowers instead of filling in the holes with mulch.