Things You'll Need
Rose petals

Floral glaze

Jewelry bezel

Clear packing tape

Jewelry resin

Squirt bottle

Tweezers

3 jump rings

Round-nose pliers

Jewelry chain

Clasp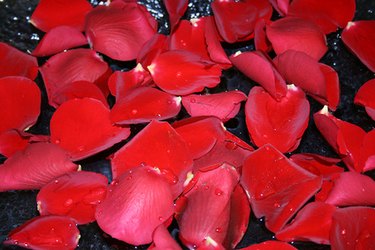 Resin jewelry is distinctive as each piece may be individually customized. You can make resin jewelry using rose petals, pressed flowers, microbeads, photos and other decorative objects that are small enough to fit inside a jewelry bezel. You can even make your own outline to hold the resin with malleable soldering wire; shape the thick wire into any design with a closed perimeter to create unusual jewelry designs.
Step 1
Spray one side of the fresh rose petals with a light coat of floral glaze. Allow the glaze to dry, flip the petals and spray the other side. Sealing fresh or dried petals with floral glaze will help keep the petal color from bleeding into the resin.
Step 2
Cover the back side of a jewelry bezel with a strip of clear packing tape. Jewelry bezels are metal findings available in a variety of shapes, colors and sizes from craft stores and jewelry suppliers.
Step 3
Mix a small amount of epoxy or polyester jewelry resin in a squirt bottle. Follow the manufacturer's directions for mixing the jewelry resin.
Step 4
Squirt the jewelry resin into the jewelry bezel to fill it halfway. Pick up the rose petal or petals and place them on top of the layer of resin. Arrange the rose petals quickly before the resin begins to set up.
Step 5
Add more mixed jewelry resin on top of the rose petals to the top rim of the bezel. Allow the resin to dry completely. This will take at least 15 minutes; follow the dry time instructions from the jewelry resin manufacturer. Remove the tape after the resin is dry.
Step 6
Open three jump rings using round-nose pliers. Hook one jump ring over the last length on each end of your jewelry chain. Hook one jump ring over the bail at the top of the bezel. Lengths of jewelry chain are also available from craft and jewelry supply stores.
Step 7
Slide one half of a jewelry clasp over each of the open jump rings at the end of the chain. Close the jump rings using round-nose jewelry pliers.
Step 8
Find the center link in the jewelry chain. Slide the jump ring attached to the bezel bail over the center link. Close the jump ring.
Tip
You can also use pressed or dried rose petals to make resin jewelry. Follow the same steps as with fresh rose petals.
Warning
Follow all manufacturer's safety precautions when handling jewelry resin.