Things You'll Need
Ryegrass seed

Lawnmower

Spreader

Fertilizer

Water hose or sprinkler system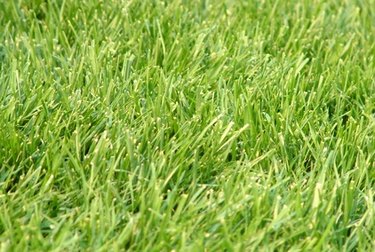 Planting winter ryegrass in North Texas is done by overseeding existing lawns, bare ground or weedy areas. Good lawn grass candidates are Bermuda, zoysia and winter dormant grasses; do not overseed St. Augustine. According to the Texas A&M Cooperative Extension, the time to apply ryegrass seeds is two to four weeks before the first frost. Based on average first frost dates from the National Climatic Data Center, seeding dates in North Texas vary from late September to November 1.
Step 1
Purchase ryegrass seed at the rate of 5 to 7 lbs. per 1,000 square feet for color on existing lawns. Fungicide-treated seed is best to control various seedling diseases. For very dense ryegrass, the Plant Answers website suggests an overseed rate of 10 to 12 lbs. per 1,000 square feet. A 50-lb. bag of seed will cover 10,000 square feet at 5 lbs. per 1,000 square feet, slightly more than 7,000 square feet at a 7-lb. application rate, and 5,000 to 4,000 square feet at 10 to 12 lbs.
Step 2
Mow seeding area at the lowest lawnmower setting, scalping the lawn prior to applying seed. Mowing with a close setting gets seed closer to the soil.
Step 3
Spread seed with a broadcast spreader two to four weeks before the average first frost date (not the average first freeze date). Planting before the average first frost gives ryegrass time to germinate. Delaying seeding until after the first frost can delay germination and place growth too close to the first freeze. If seeding a very small area, seed can be sown by hand.
Step 4
Fertilize the seeded area immediately after planting with a complete fertilizer of 15-5-10 at 6 lbs. per 1,000 square feet, recommends the Plant Answers website. After this first treatment, apply soluble nitrogen every three weeks at 1/2 lb. per 1,000 square feet until ryegrass reaches the desired consistency, suggests Texas A&M Cooperative Extension.
Step 5
Water with a water hose or sprinkler system as soon as the initial fertilizer is spread on the seeded ground. After this first watering, water lightly twice a day until seedlings emerge. Ryegrass is one of the least drought-tolerant grasses. Winter rains in North Texas will help ryegrass flourish, but additional water needs should be expected.
Step 6
Mow ryegrass twice weekly for grass more than 1 inch high.
Tip
Annual or perennial ryegrass seed can be used in North Texas, although annual is usually less expensive, germinates faster and fades quicker in the spring.
Determine overseeding application dates by subtracting two to four weeks from the average first frost date for the weather station closest to the planting area. The National Climatic Data Center website shows average first frost dates for North Texas reporting stations varying by almost three weeks, from October 27 for Bonham, November 10 for Corsicana, and November 14 for urban Dallas Love Field.
Warning
Do not overseed St. Augustine grass, as St. Augustine does not normally go dormant in the winter. Even when it does go dormant, St. Augustine is not scalped.